Just as important as aesthetics when building a healthy smile are good oral health and proper function of your teeth and jaw. A beautiful smile should only be built on a stable foundation, and our Mississauga-area dentist Arun Narang, DDS offers an array of advanced treatments to restore the health and beauty of your teeth and gums. Restorative dentistry from our specialty dental team can conceive the smile you never thought possible, whether by replacing missing teeth or treating damage and decay.
Dental Implants
Lost teeth present a number of concerns to both your appearance and your general health. You may have trouble chewing or experience issues such as the shifting of surrounding teeth, changes in your facial appearance, and even an increased risk of heart disease. These functional and aesthetic concerns are linked to one or more missing teeth and can become more problematic the longer missing spaces in your smile remain unfilled. Luckily, a state-of-the-art solution exists to mimic the look, feel, and function of a natural tooth. Dental implants are sophisticated titanium posts placed into a missing tooth space to imitate a natural tooth root, on top of which a sturdy crown resembling the body of a tooth can be secured. This apparatus should then effectively restore function of your missing tooth and remain undetectable within your smile.
You can replace an individual tooth, several teeth, or an entire dental arch with implants. The process requires adequate jawbone support to anchor the implant, so our periodontist will examine the state of your bone density to determine whether treatment is right for you. After confirming your candidacy, an oral surgeon will place your implant and leave it to fuse with your bone for several months. A crown or bridge will then be custom-made to top the implant for full restoration of your missing tooth or teeth. While some patience may be required during the osseointegration process, dental implants are universally praised by dentists as a virtually impeccable method of replacing one or several lost teeth.
Implant-Supported Dentures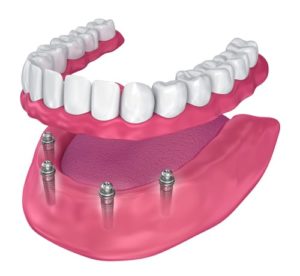 Are you self-conscious when chewing or speaking due to insecure dentures? Slippage and gum irritation are among the many reasons why individuals often seek a better solution to replace a missing row of teeth. Implant-supported dentures are thought of by many patients as an excellent upgrade that can provide more security and confidence than traditional, unanchored dentures.
Implant dentures are designed to secure an upper and/or lower denture to the jawbone using dental implants. This can allow dentures to remain firmly inside the mouth without pastes or adhesives, restoring the ability to chew confidently while giving the appearance of a natural smile. There are a number of benefits offered by implant dentures, including:
Reduced gum slippage
Ability to enjoy tougher or crunchier foods
Freedom to speak, drink, and eat more confidently
Greater jawbone stimulation
When anchored by implants, dentures can look and feel like an organic part of your mouth. The number of dental implants needed to produce a stable result typically depends on the state of your bone density and oral health, but usually ranges between four and eight.
All-on-4®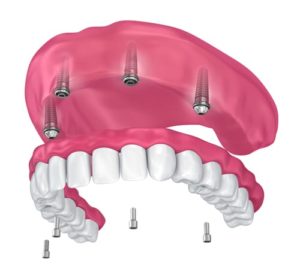 All-on-4®, or "teeth in a day,"
 is a special implant dentistry technique designed for patients who need to replace a full row of missing teeth. Men and women often come to Dr. Narang seeking a more comfortable and stable denture alternative. For these individuals, implant-supported dentures—which are designed to anchor dentures to the jawbone—can provide the security needed to eat, drink, and speak with more confidence. All-on-4® is an implant denture treatment distinguished by the ability to affix your dentures using no more than four to six implants.
All-on-4®
 makes it possible to minimize the number of dental implants required to anchor your prosthesis by positioning the implants at strategic angles, reducing the need for additional support to hold the denture in place. Due to the technique's use of only four dental implants (or six if you have less bone volume to secure the denture), patients can achieve their dream smile with less time, invasiveness, and expense than using an individual implant to replace each missing tooth. The All-on-4® process works very much the same as treatment for dental implants or implant-supported dentures. Our dentist or periodontist will evaluate your jawbone density to determine whether you are a candidate for All-on-4®. From there, our experienced implant team will use x-rays and 3D intraoral scanning of the teeth and jaw to assess the most ideal implant locations. After the implants are placed and successfully integrated with the jawbone, a custom-made denture can be fabricated to restore your entire smile. The upper and/or lower denture will then be able to snap in and out of place, allowing you to comfortably enjoy full functionality of your teeth.
CEREC® One-Visit Restorations

Dental crowns and bridges are some of the most commonly used restorations in dentistry. If decay, oral injuries, or other types of tooth damage have weakened or worn down your enamel, the affected tooth can still be strengthened with a custom-made crown. Dental crowns are restorations bonded over the top of a damaged tooth for additional support, often preventing the need for an extraction. If you already have a missing tooth, crowns can also be used in conjunction with a dental bridge to restore biting function in the area and make your smile whole again. A dental bridge is a set of one or more artificial teeth crafted to fill the gap left by consecutive missing teeth. It is custom-designed to match the rest of your smile and secured in place using crowns attached to healthy teeth on either side of the gap, allowing a natural-looking alternative to dental implants.
While dental crowns and bridges are traditionally made in a dental lab and require one week of turnaround time to complete treatment, Dr. Narang utilizes advanced technology that makes it possible to fabricate and place your restorations in one appointment! CEREC® one-visit dental crowns and bridges use innovative computer-assisted design and manufacture (CAD/CAM) software to craft your restoration right here in our office. The crown or bridge is produced to achieve a precise fit, eliminating the need for a temporary restoration or a second dental appointment. Our dental team can examine your concerns and assess whether a CEREC® crown or bridge is an ideal treatment to rehabilitate your tooth.
Full Mouth Restoration
If you have widespread tooth decay or you feel your smile is beyond repair, there is still hope. Dr. Narang and our team of compassionate dentists take great pride in helping patients enjoy their favorite foods again and feel more confident when smiling. We start the process of full mouth restoration with a discussion of your concerns and what you hope to achieve for your smile. After examining your teeth, gums, and mouth, Dr. Narang will develop a personalized treatment plan to achieve your goals and reconstruct your smile.
Depending on which dental issues need to be addressed, your treatment plan may consist of gum disease therapy, orthodontics to align your bite, or dental implants to restore lost teeth, among other treatment options. You will even be able to see a virtual preview of the potential results through cutting-edge digital smile design technology. Dr. Narang will give you an idea of your treatment timeline and when you can expect to see your new smile. Some patients may be able to achieve the desired final outcome within a few appointments, while others may need to undergo treatment in stages. If you are nervous about being in the dentist's chair, our practice offers the option of sedation dentistry to calm your anxiety and help you enjoy a more comfortable experience. Whatever your needs may be, our experienced dentists believe it's never too late to achieve a beautiful, fully functioning smile.
Why Choose Dr. Narang for Restorative Dentistry?
As a leading provider of restorative and cosmetic dentistry in the Oakville and Mississauga regions, Dr. Arun Narang has been helping patients renew their smile and optimize their oral wellness for decades. Dr. Narang is an Accreditation Candidate with the American Academy of Cosmetic Dentistry (AACD), a rare qualification that speaks to the extensive training completed throughout his career. Furthermore, Dr. Narang has substantial experience in rebuilding smiles from the inside out through the AACD's "Give Back a Smile" program, which aims to provide those in need with necessary dental work free of charge. Dr. Narang's dental team consists of a core team of periodontists, cosmetic dentists, orthodontists, and oral surgeons who excel in providing warm, compassionate patient care as well as high-quality results. Through collaboration amongst ourselves and with our patients, we are able to plan effective treatment around your unique needs and concerns.
Ready to make your dream smile a reality? Please contact Dr. Narang for more information about our cosmetic and restorative dentistry treatments, or to schedule a consultation.