Cosmetic dentistry is where advanced dental technology meets minimally invasive techniques, working together to give you a stunning smile you can be proud of. With over 30 years of experience, Dr. Arun Narang is well-versed in achieving the best possible outcomes through an array of cosmetic dentistry treatments designed to repair dental flaws, improve your oral health, and enhance your entire facial appearance—all with your unique needs and comfort in mind.
Porcelain Veneers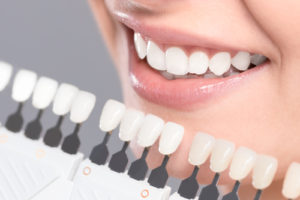 Porcelain veneers are unsurpassed in long-lasting brilliance. These ultra-thin porcelain shells can be a fast and simple treatment to correct a wide range of aesthetic dental concerns, including chips, gaps, discoloration, misalignments, and short or worn teeth. With the strength and natural-looking aesthetics offered by porcelain, our high-quality dental veneers can give you the smile you've always dreamed of.
The veneer placement process is very simple—Dr. Narang will craft a custom porcelain veneer based on digital photos and an impression taken of your teeth. Once the veneer is created, Dr. Narang will prepare the tooth by removing a very small amount of enamel in order to make space for the veneer. It is then bonded over the front of the tooth with a durable cement to not only mask dental flaws, but also to restore the full proportions of a healthy, youthful tooth. Best of all, porcelain veneers take no more than two office visits to complete treatment, and often last for years—even decades.
Porcelain veneers are crafted to look natural and feel like an organic part of your smile. The veneers are matched to the shade of your natural tooth color, rendering them indistinguishable among the rest of your smile.
Invisalign®

Ever wish you could skip the treatment process and fast-forward to your dream smile? With Invisalign®, the process of straightening your teeth is so easy and unobtrusive, you may forget you're wearing braces. Often considered the future of orthodontics, Invisalign® is a system designed to incur minimal interference to your daily life. Instead of metal wires and brackets, clear aligners work to gently and discreetly guide your teeth into the correct positioning. These virtually invisible braces are also removable, simplifying the process of cleaning your teeth and allowing you to enjoy all your favorite foods.
Dr. Narang and our experienced orthodontist will create an optimal Invisalign® treatment plan designed to give you a beautiful smile and a healthy bite. First, an impression of your bite is taken to fabricate your aligners and attain a comfortable, accurate fit. You will wear each aligner for approximately two weeks before progressing to the next aligner in the series. With periodic visits to our dental office helping ensure you're on the right track, the subtle changes in each aligner will gradually guide your teeth into a straighter, healthier location until the desired final result is met. The aligners are meant to be worn at all times, besides when you are eating, drinking, or cleaning your teeth. Most patients complete treatment within 9 to 15 months, although the duration of each Invisalign® dental plan varies.
Dr. Narang always aims to provide the utmost comfort and convenience while you straighten your teeth, and Invisalign® is capable of achieving just that. In addition to fixing misalignments and crookedness, Invisalign® can also treat underbites, overbites, open bites, and cross bites.
Teeth Whitening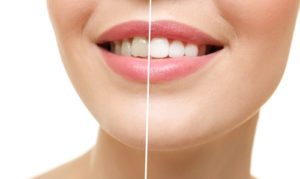 Teeth whitening can be one of the easiest yet most powerful ways to completely revamp your smile. It's no secret that an alluring smile is associated with teeth that look bright and youthful. However, maintaining a white smile often becomes more difficult with age as deep stains penetrate the inside of the enamel and lead to dark, yellow, or brown teeth. Professional teeth whitening is often the most effective technique to reach dark tooth stains beyond the surface of the enamel and erase years of discoloration.
Our talented cosmetic dentists use the sophisticated Opalescence® Boost whitening system to dramatically lighten teeth by several shades in just one hour. Unlike other whitening systems, Opalescence® Boost does not require any hot, bright lights to activate treatment. You can simply relax in the dentist's chair while our dental hygienist brushes the advanced whitening gel onto your teeth. After approximately 40 minutes, the results are immediately noticeable.
The Opalescence® Boost whitening gel is made of a combination of fluoride and potassium nitrate, giving it the strength to reach deep stains in the dentin while remaining gentle enough to minimize tooth sensitivity. Dr. Narang also offers the "Whitening for Life" program to preserve your gleaming smile for years to come.
CEREC® Same-Day Crowns

If you have a weak tooth from cavities, a dental injury, teeth grinding, or another factor, a porcelain crown can be an effective restoration to alleviate pain and restore a proper bite. These high-quality "caps" or coverings are placed over the tops of teeth to restore the integrity of a damaged, injured, or decayed tooth. They can provide a tooth with additional protection and support while looking and feeling like a natural part of your mouth. Traditionally, a drawback of dental crowns was the need to place a temporary crown while a permanent restoration was manufactured in a dental lab. At our practice, Dr. Narang's advanced same-day CEREC® restorations make it possible to fabricate your custom-made porcelain crown right here at our Mississauga practice, eliminating turnaround time and allowing you to receive your crown on the same day as your appointment!
Dental crowns typically benefit patients who have a tooth affected by damage or decay, sometimes making it painful to bite or chew properly. After our dentist confirms you are a good candidate for treatment, your porcelain crown will be made in-office with the assistance of CAD-CAM technology, which is short for "computer-assisted design" and "computer-assisted manufacturing." Diagnostic data of your teeth will help ensure a proper fit for your crown, and the restoration will be securely affixed to your tooth. Porcelain crowns are also tooth-colored, giving them the ability to strengthen and reinforce your teeth without sacrificing natural-looking aesthetics.
Cosmetic Bonding
Are minor chips and cracks in your teeth keeping you from enjoying a flawless smile? Our practice may have a simple solution for that! Cosmetic dental bonding uses a tooth-colored composite resin to repair chips and fissures in the enamel, essentially concealing aesthetic imperfections and making a damaged tooth whole again. This non-invasive technique can also conceal other minor issues in teeth, such as discoloration and small gaps. Cosmetic bonding is often ideal for patients who would like to fix minor dental flaws, but who may not want a porcelain crown or veneer.
Dr. Narang and our skilled dental hygienist will first prepare your tooth for treatment by cleaning it thoroughly. The composite material will then be applied to the damaged area in multiple layers, which will allow Dr. Narang to shape the tooth to achieve a full, healthy tooth structure. A special light will then be used to cement the composite in place, and the treated tooth will be polished to a sheen. Cosmetic bonding can create beautiful and enduring results, but the outcome may need to be refined every 5 to 10 years depending on your oral hygiene and lifestyle habits.
Digital Smile Design
Digital smile design can be thought of as the blueprint that lays the foundation for a beautiful smile. Rather than taking a "one-size-fits-all" approach to dental treatments, digital smile design allows us to consider all aspects of your appearance, including your facial shape, nose, cheeks, and lips, to devise an optimal treatment plan uniquely constructed for you. Best of all, you will be able to see a preview of your new smile before the start of any treatment!
In this way, you and Dr. Narang will work together to maximize dento-facial aesthetics and make your desired final result a reality. This is achieved with the help of high-quality dental imaging technology, which provides a visualization of what you can potentially expect after treatment. If any revisions or improvements are necessary, these changes can be incorporated into your smile design without wasting any time or expense. With this state-of-the-art technology at our disposal, the process of planning your perfect smile is more collaborative and efficient than ever.
Smile Makeover
The easy confidence of a natural, beautiful smile is incomparable. If you have missing, yellow, or damaged teeth, Dr. Narang and our compassionate dental team can work with you to rebuild a brilliant smile that you'll be eager to show off. A smile makeover, also known as smile design, consists of a series of cosmetic dentistry treatments chosen to address multiple dental concerns at once. As a result, the shape, color, dimensions, and/or alignment of your teeth can be simultaneously enhanced with the goal of creating a proportional and flattering smile that complements your natural beauty.
Aided by digital smile design technology, Dr. Narang and our cosmetic dentists will evaluate your concerns and formulate an ideal smile makeover plan based on your goals and the proportions of your surrounding facial features. Possible options to include in your smile transformation may involve teeth whitening, porcelain veneers, cosmetic bonding, and/or Invisalign®, among other minimally invasive procedures. As Dr. Narang begins to design your smile, you will be able to see a preview of the potential results using advanced dental imaging software. Once the final details of your smile makeover plan are confirmed and you are ready to undergo treatment, Dr. Narang will guide you through every step of the process and let you know when you can expect to see the outcome.
Why Choose Dr. Narang for Cosmetic Dentistry?
Dr. Arun Narang, our highly skilled cosmetic dentist, believes you deserve the very best in your dental treatment, which is why he has dedicated his entire career to learning the most effective and advanced techniques in cosmetic dentistry. As an Accreditation Candidate for the American Academy of Cosmetic Dentistry (AACD), Dr. Narang has undertaken countless hours of ongoing education and research within the field to stay on top of ever-evolving treatment protocols. Very few cosmetic dentists have the extensive experience necessary to qualify as an Accreditation Candidate, and this distinction demonstrates Dr. Narang's commitment to being the very best at his craft. In addition to sitting on the board of the AACD, Dr. Narang is also a member of several other professional organizations, such as the International Congress of Oral Implantology and the Toronto Academy of Cosmetic Dentistry, for which he once served as President.
More than his professional credentials, Dr. Narang believes in the power of cosmetic dentistry to change lives. He goes to great lengths to provide the highest quality of care so that his patients can regain a healthy mouth and an impeccable smile in a relaxing, comfortable environment. This passion, he believes, is key to achieving complete satisfaction and unmatched results for his patients in the Mississauga community.